In some European countries the idea of legal same-sex marriage is largely uncontroversial. For instance the Netherlands has had equal marriage since 2001, it being the first nation in the world to act. However the more eastward one travels, the more socially conservative countries appear to be on LGBT rights. I contend that 2017 will be an important year because it could be a watershed moment in the history of the European gay liberation movement. Evidently I may have been proven correct already as there has been progress in some parts of Europe in this very area. But even more can be made this year given the changes in public opinion in some European countries.
In the central European state of Slovenia a bill was passed to legalise same-sex marriage. This is an important step forward in the case of this specific country because in 2015 the electorate voted against embracing same-sex marriage in a referendum. Evidently lawmakers have seen public opinion change and have acted accordingly.
The specifics of the law are important because it signposts where the march for equality must soon travel. The law in Slovenia specifies that whilst same-sex marriage is legal, homosexual couples do not have the same legal rights to IVF treatment or adoption. The idea of LGBT people not being able to adopt of access IVF treatment is not new and as such activists in Slovenia will be acting to remedy this injustice.
The arguments in favour of marriage are quite clean-cut. The premise of equality is allowing people to act in a way that doesn't harm anyone else and to express their love for one another in a way they feel comfortable. Even someone with reactionary homophobic views on other subjects can see this argument has its merits.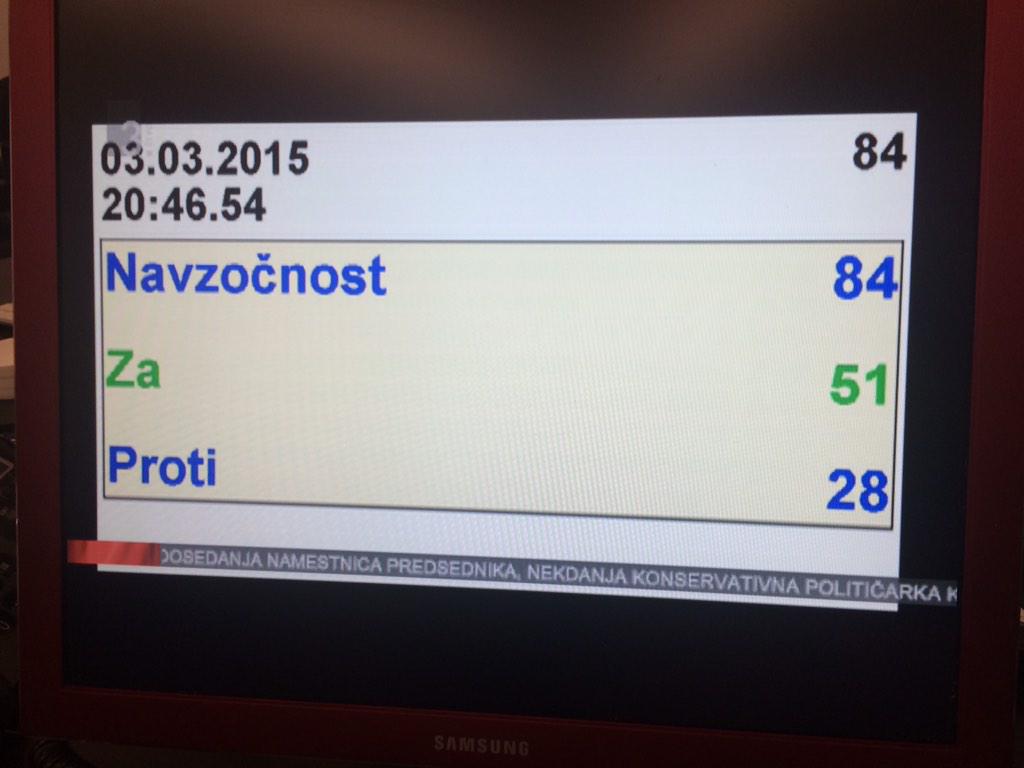 The adoption and IVF argument takes longer for people to adjust to because of the prospect of children being involved. If you genuinely believe that same-sex parents will psychologically harm their child, the resistance to such a move is quite visceral. IVF and adoption will come as people change their minds, but only if there is an organised and coordinated movement forcing politicians to act.
However Slovenia wasn't the only country where progress was made. In Finland the country has finally legalised same-sex marriage. The bill bringing in marriage equality was actually passed in 2014 but there has been attempts by social conservatives to overturn the bill. This attempted through a citizens' initiative to prohibit same-sex couples becoming legally recognised as married. Because of the opposition among members of the public and some in the Finnish parliament, the law hadn't come into effect. However last week there was a vote in parliament as to whether or not the equality bill would be upheld. The vote was 120-48 to uphold the bill, and as a result same-sex marriage is finally legal.
As well as this breakthrough, the same law that came into effect allowed for same-sex couples to adopt children. IVF for lesbian couples has been legal since 2006 and so the issue also marks an important development in regards to equality between the sexes. Due a legal loophole that the legislation has created, female same-sex couples still have more parental rights than their male counterparts, and this is where the LGBT movement is turning its focus and resources.
As well as addressing the legal hangovers of previous laws, the LGBT movement is now in a de facto alliance with the reproductive rights movement as surrogacy for heterosexual and homosexual couples remains illegal. Although not an issue of anti-LGBT discrimination, as the practice is banned across the board, it is important these these liberation movements stand in solidarity with one another. I am very much of the anti-authoritarian opinion that people should be able to do what they want with their bodies, including surrogacy. Anti-surrogacy laws, therefore, should be fought so that couples of any sexual orientation can have children if they so wish.
As I alluded to in the introduction, I believe that 2017 will be a big year for LGBT rights in Europe. I wouldn't say I'm a perpetual optimist so there is legitimate reason for being hopeful for the coming year.
In Germany  the campaign for same-sex marriage have been emboldened by consistent polling that indicates that the majority of their fellow citizens agree with legalisation. In Germany a poll by INSA, and reported in the tabloid newspaper Bild, found that 65% of Germans supported marriage equality including a majority of CDU voters. In recent days the SPD, who are expected to be in the next government after this year's federal election, have been passionately making the case for marriage equality. Die Linke and the Greens, who may go into government with the SPD, have also stated their support for equal marriage and so 2017 may finally be the year.
Similarly in Austria, there have been recent legal cases and a citizens' initiative to try and legalise same-sex marriage. Polling for a number of years has consistently put the pro-equality position in the majority. One such poll was a 2015 Eurobarometer survey, which looked at social attitudes towards different groups across EU member states. In this poll 70% of people agreed with the statement "gay, lesbian, and bisexual people should have the same rights as heterosexual people", 67% agreed with the statement "there is nothing wrong in a sexual relationship between two persons of the same sex", and 62% agreed with the statement "same-sex marriages should be allowed throughout Europe". The people of Austria are obviously quite accepting of the LGBT community, and although there is no national election in the country in 2017, civil society seems to be agitating in support of equality.
In the small island nation of Malta 2017 could also be the year of equal marriage. About a year ago Maltese Prime Minister Joseph Muscat and Opposition leader Simon Busutill said they both personally supported the introduction of same-sex marriage. At the time this drew support for MGRM, the largest LGBT rights organisation in the country.
Malta remains quite a religious country so it may appear that my optimism faces another important hurdle. However the country has shown that despite being majority Catholic, people are incredibly accepting of LGBT people. The same Eurobarometer poll cited above also showed that 65% of people supported equal marriage with only 29% actively opposed. But the most moving example of this accepting attitude was demonstrated in the aftermath of the Pulse nightclub shooting in 2016. Thousands of people marched in the streets across the islands and foreign dignitaries spoke at these meetings.
This relates to religion because the President of the Christian Life Community, a Protestant organisation, and Father Charles Cordina, a delegate of the Catholic Archdiocese of Malta, offered up prayers for the victims. Further, a parish church in the town of St. Julian's became the centre of outpourings of grief after the local priest gave his blessing. Malta may still be quite a religious country but being openly hostile to LGBT equality would put one outside the mainstream.
Finally, I want to mention the Czech Republic. The Czech Republic isn't as clear-cut as the other countries I've mentioned. For a long time support for equal marriage has hovered around 50% but the number has either been a plurality or the opposition has been very closely behind. Whist this remains the case, I would like to argue that the Czech Republic is a candidate country for what I call 'reactionary change'.
At the moment LGBT rights are one of many political issues that are on voters' radar, but it is fair to say that for a lot of ordinary people it is not something that will drive people to the polls. However, if Austria, Germany and Malta all legalise same-sex marriage this year, the changes with be newsworthy across the whole continent. This is most pronounced in relation to Germany. If Germany embraces same-sex marriage, other countries in Central Europe will take note. At the moment around 50% of people support equal marriage, but if there is a concerted campaign, inspired by events in other countries, I think this number will increase.
I genuinely believe that 2017 will be an important year in the struggle for equality, especially in the context of same-sex marriage. Germany is very important country in Europe and if marriage equality is passed the rest of Europe will take note. Even if countries in Eastern Europe double-down in opposition, there will be people across the continent that are inspired to agitate for change. LGBT rights can only be achieved if committed activists can galvanise support from straight allies. In Malta, Germany and Austria it appears that this has already happened, but without sustained pressure on political leaders, the status quo will remain.
There are also movements in Greece and Italy that I haven't mentioned because I believe other political and economic problems are the centre of their national discourses. But again if a country like Germany acts to embrace marriage equality I would not be surprised at all if countries across the European continent join the list of states accepting civil rights for LGBT people.