This weekend the Premier League and Rugby Football Union (RFU) shall formally throw their support behind the Rainbow Laces campaign, a pro-LGBT right movement that seeks to tackle homophobia in sport. These two organisations shall do this by providing rainbow laces for referees in the competitive fixtures taking place over the weekend. Sport is one of the final frontiers of LGBT acceptance in British secular society and I think most people shall look at games this weekend and feel a sense of pride, no pun intended, about how far we have come as a society.
Let's look at what will be happening in more detail. The RFU have said that the campaign will apply to top-level matches over the weekend with referees provided with rainbow laces for all Premiership and Pro12 games taking place in England and Wales. The English and Welsh national teams shall both be playing at home in Autumn internationals and shall also be equipt with rainbow laces. In a statement to the BBC the Chief Executive of the RFU Ian Ritchie said "the RFU is proud to support Stonewall and the Rainbow Laces campaign. We believe rugby's core values of respect, teamwork, and sportsmanship resonate with what is at the heart of this important campaign".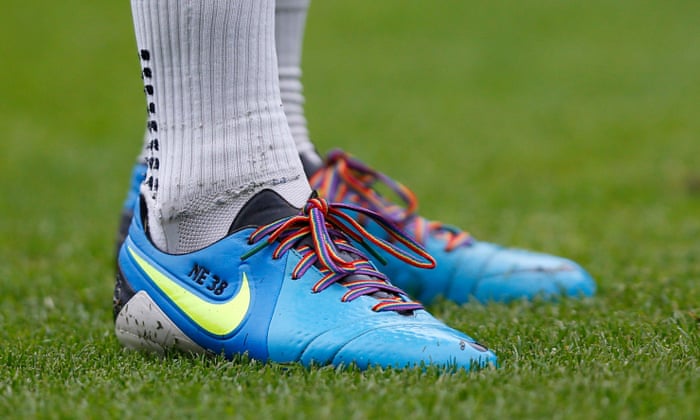 Whilst the RFU have really pushed the boat out with their positive support for the campaign, it's fair to say that the co-operation from the footballing world has been even better. Premier League Executive Chairman Richard Scudamore said "the Premier League is all about exciting, passionate and unpredictable football that is for everyone, everywhere. The Rainbow laces campaign complements the work clubs are doing to promote inclusion and diversity in their stadiums, and across all levels of the sport". This shall be reflected not only by referees. Premier League clubs will be able to have rainbow laces for their players as well, and the pro-LGBT rainbow flag shall be flown from the stadia of every club. Furthermore, the Premier League has encouraged all clubs to promote the Kick It Out, an anti-discrimination organisation founded to oppose racism but in recent years have also taken up the banner of anti-homophobia.
It also appears that the Premier League will have support from other bodies. The FA will join with the Premier League in making a statement about homophobia, as on Saturday the arch of Wembley Stadium shall be lit up in rainbow colours. Sky, one of the largest broadcasters of sport in the UK, have also come out in support of the campaign and through their TeamPride programme are bringing together sport-based businesses to speak up in support the Rainbow Laces campaign.
This weekend will be a massive reminder of how we as human beings can easily change social conventions that have kept people oppressed for many years. Just over 13 years ago Section 28 was still in effect, and now businesses and sporting organisations are lining up to call out homophobia, biphobia, and transphobia. The progress that has been made should be recognised and celebrated. In recent years both the Premier League and the RFU have taken proactive roles in tackling bigotry in their respective sports which should be commended, but as this action illustrates there is still a long way to go.